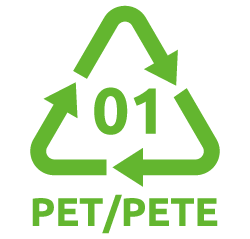 Polyethylene Terephthalate
Characteristics
PET is clear, tough, and has good gas and moisture barrier properties, resistance to heat.
Commonly used in bottles and many food and non-food containers.
Stiffness, strength, toughness, ease of processing, and ease of forming.
Packaging Applications
Soft drink
Water
Sports drink
Beer
Mouthwash
Catsup and salad dressing bottles
Pickle, jelly and jam jars
Cosmetic bottles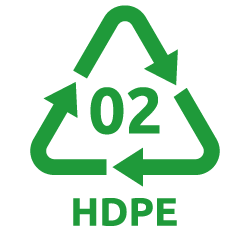 High Density Polyethylene
Characteristics
Unpigmented bottles are translucent, have good barrier properties and stiffness, and are well suited to packaging products with a short shelf life.
HDPE has good chemical resistance, it is used for packaging many household and industrial chemicals.
Pigmented HDPE bottles have better stress crack resistance than unpigmented HDPE bottles.
Packaging Applications
Liquid laundry detergent
Shampoo conditioner
Motor oil bottles
Milk and juice bottles
Yogurt and margarine tubs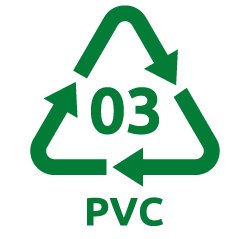 Vinyl / Polyvinyl Chloride
Characteristics
Poor heat stability.
Molding and decomposition temperature range are similar.
Poor fluidity, poor molding appearance.
Corrosive to mold.
Most easy to burn and generate acid gas.
Good strength, electrical insulation and chemical resistance.
Can be softened after adding DOP.
Poor heat resistance.
High sp. Gravity (1.4) has burning resistance; good for printing
Different formula has different characteristics. Wide application range, low price, high impact to environment. Likely to decompose when molding temperature exceeds 190°C and emit corrosive gas of HCI.
Packaging Applications
Clear food and non-food packaging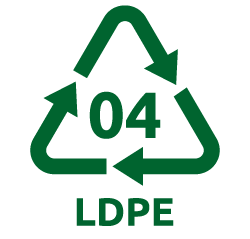 Low Density Polyethylene
Characteristics
High shrinkage, easy to bend and deform.
Need cooling time, poor molding yield.
Sink will occur to product, need forceful mold releasing.
Molding shrinkage is highly affected by mold temperature. Poor stability.
Good fluidity, good heat stability, but molecular orientation leads to distortion.
Lighter than water and soft.
Not heat resistance, adhesive printing.
Packaging Applications
Squeezable bottles (e.g. honey, mustard)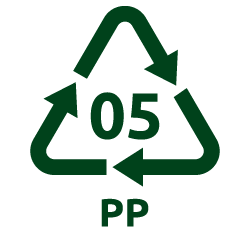 Polypropylene
Characteristics
Low fluidity, flow mark appears if filling were poor, when pressure is not enough, easy to have dent, need high-pressure molding.
In optical use, transparency is a problem, when mixing with other material; care shall be given to decomposition.
Excellent in molding property, mechanical strength is better than PE.
Good water, chemical resistance and electrical insulation.
Easy to distort, deform and dent.
Adhesive, the lightest plastic.
Low Sp. Gravity (about 0.90), FDA grade, good transparency, no moisture absorption, low price, heat resistance and normal mechanical strength are poor, low foaming percentage, poor for printing.
Packaging Applications
Catsup bottles
Yogurt containers
Margarine tubs
Medicine bottles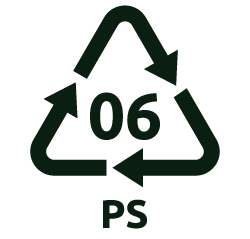 Polystyrene
Characteristics
Of Ethylene family, general plastic resin.
Good fluidity, good molding yield and molding property.
Easy to break, not good impact resistance.(GPPS)
Easy to trim.
Colorless, transparent, easy to be dyed, and good insulation.
Good in water resistance and chemical resistance.

Characteristics
Use of this code indicates that the package in question is made with a resin other than the six listed above, or is made of more than one resin listed above, and used in a multi-layer combination.
Packaging Applications
Dependent on resin or combination of resins